Officers from UK police shared on Facebook a CCTV still of the man, who 'looks like Ross from Friends'- David Schwimmer, clutching a crate of beer. 'Friends' fans inundated with comments from Facebook users after issuing an appeal for an alleged thief bearing a resemblance to the Friends star David Schwimmer and bombarded Blackpool Police's post with jokes inspired by the loved 90s sitcom. Many posted references to some well-known lines by Ross from 'Friends'.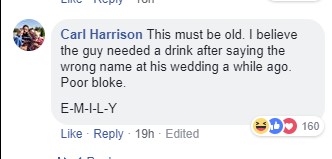 After the police check for Schwimmer location, they announced that David Schwimmer 'lookalike' was not in the UK at the time of the offense-
"Thank you to everyone for your speedy responses. We have investigated this matter thoroughly and have confirmed that David Schwimmer was in America on this date," they wrote.
https://www.facebook.com/BlackpoolPolice/photos/a.382639948432987/2132566913440273/?type=3&theater