A 15-year-old teenage boy from Ohio who's disappeared for more than a year, after reportedly witnessing the murder of his father, has been found alive in a basement, authorities said.
Police believe Jacob Caldwell disappeared from the home of his grandparents, who were granted emergency temporary custody of him and his brothers, without a trace last year after Jacob's father, Robert Caldwell, was shot and killed by his ex-wife, Tawnney Caldwell, on Aug. 15, 2017. After the murder, the Police believe Jacob Caldwell ran away from home. Jacob had last been seen Aug. 21, 2017, in front of a Walmart in Sugar Creek Township, Sugar Creek Township Police Chief Michael Brown said at a press conference Tuesday.
#BreakingNews: Jacob Caldwell, a local teen who went missing after his father was murdered in front of him in 2017 has been found safe his family confirms to FOX45. https://t.co/BDkiGGcCcJ pic.twitter.com/VmubTe0jCk

— Dayton 24/7 Now (@dayton247now) August 28, 2018
A few days ago the FBI says they received multiple tips, and one individual called investigators earlier that day with "very credible" information on his location, Brown said, that Jacob was staying at a house less than an hour away. The Authorities obtained a search warrant after getting word Jacob may soon be moved, Brown said. Agents found him at a home about 40 miles away in Miami Township late Monday night, living in the basement with four other people.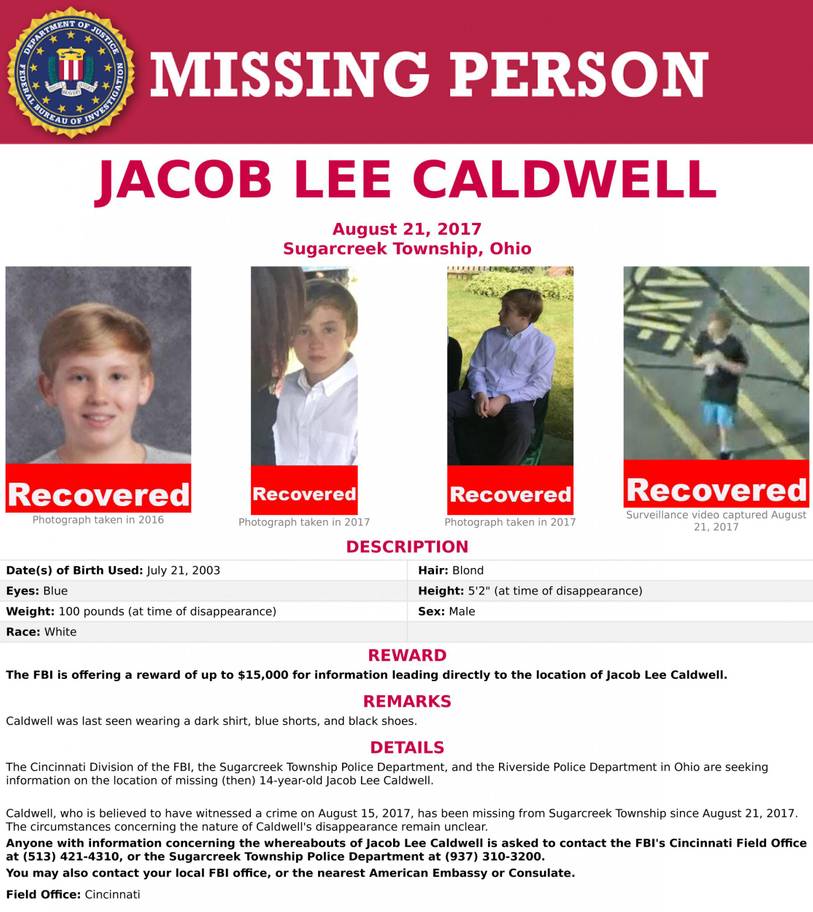 "We found Jacob in the basement. Not that he was hiding there. I don't think he was necessarily hiding at that moment from us. That appeared to be where his primary area of sleeping was." Brown said. He was healthy but remained quiet when they found him. Jacob also went a year without attending school or socializing with friends, Brown added. It also appears that all Jacob has been doing for the past year is sitting inside, watching TV and playing video games.
The FBI says they believe Jacob was being hidden by his mother. The adults who were in the home are not related to Jacob but are associated with his mother, Brown said. Jacob mother and her boyfriend are charged with the murder of Jacob's father.
Jacob did not resist when authorities took him into custody, Brown said.