Netflix new movie "Bright" starring Will Smith — which critics didn't like has been watched by over than 11 million in the first three days of release, according to Nielsen estimates. Storyline is about hybrid cop-buddy's sci-fi fantasy movie, with budget of $100 million. Drew an audience of about 7 million U.S. viewers 18-49 on connected TVs from Dec. 22-24.
Trailer
Is it a hit? That's hard to determine, given that Nielsen has only part of the ct data since launching its subscription VOD measurement service this fall and Netflix doesn't reveal such metrics.According to Nielsen, "Bright" still fall behind "Stranger Things" season 2 but better than second season of Queen Elizabeth II drama "The Crown."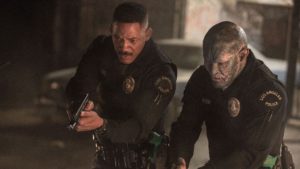 Get into stats in first three days of "Stranger Things" season 2's release (Oct. 27-29), the premiere over  15.8 million viewers overall (and 11 million in the 18-49 demo) over that period, per Nielsen. "The Crown" season 2's first episode on Netflix averaged nearly 3 million U.S. viewers, including nearly 1.3 million people 18-49, within the first three days of its availability (Dec. 8-12).
Well let's hope Netflix will continue to do more Movies and Shows.